Invisible Hearing Aids
Are for Everyone!
With the advancement of technology, invisible hearing aids have become the leading choice for patients. These discreet devices can enhance a person's day-to-day lifestyle while having the capabilities to help clients overcome mild to moderate hearing loss.
At Discover Hearing Centre, we specialize in customizing our invisible hearing aids to fit your life and help you integrate into the noisy world of today. You deserve a more natural sound journey as we help you choose the right device that are comfortable for a great hearing experience. We work with top manufacturers to deliver fantastic customer satisfaction with consistent ongoing care and follow-ups on your device.
Call (519) 208-4327 for your complimentary hearing evaluation and begin to enjoy the benefits of a discreet hearing aid today. 
What are Invisible Hearing Aids?
The concept of the invisible hearing aid is that it functions at a superior level without being seen. They are installed deep in the ear canal, customized to your unique thresholds. These devices have come a long way in the last decade, as they are diminishing the notion that hearing aids should be bulky to work properly.
When you book your consultation, we will analyze the sounds of your lifestyle and inspect your ear canal. From there, we can create an impression of your exact ear measurements and send them directly to the manufacturers for production. When we receive your custom invisible hearing device, we will fit it into your ear canal and provide you with additional information on the maintenance and how to work the components to it.
Call (519) 208-4327 to discuss our 14-day try before you buy offer and to discuss your specific hearing objectives.
When it comes to invisible hearing aids cost, we make it worth investing in terms of price, and quality.
Our wide range of invisible hearing aids also includes non-custom devices, in which you can demo them in-store and see whether the device is your perfect fit in accordance with our expertise. Whether you choose to get a custom or a non-custom invisible hearing aid, we provide you with exceptional battery efficiency that delivers up to 30 hours of continuous performance.
What are the different types of invisible hearing aids?
You may find a hearing device that checks all the boxes on paper, but after a week, you find that the sound quality is not what you had hoped for. Based on your current hearing profile, our team can recommend several options based on what you find most comfortable. Two types of invisible hearing devices can be customized to your ear canal. They are:
Invisible hearing devices are tailored to your lifestyle
Every individual's road to hear is going to be different. Where one individual can benefit from a reputable brand, another needs to choose a different brand to maximize their sound journey. While some users might experience fantastic hearing with invisible hearing aids, others will benefit more with a behind-the-ear device.
Just like fingerprints, your ear canal is unique, and with modern technological advancements, we are able to tailor invisible hearing aids to amplify your life's volume. Our professional hearing aids specialists will ensure an exceptional experience each and every time you visit us and can provide you with honest advice regarding your hearing loss.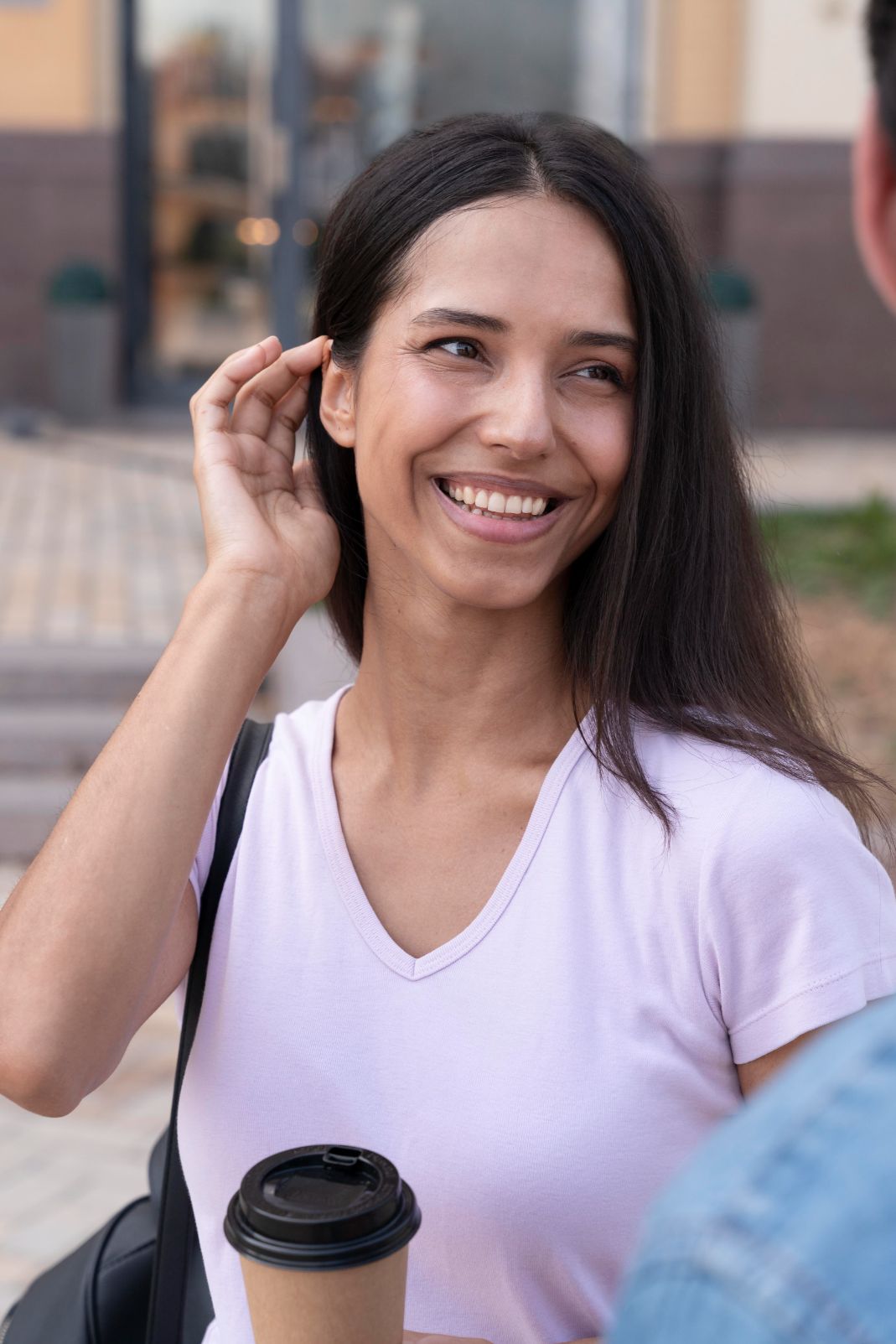 How much do invisible hearing aids cost?
The average price of an invisible hearing aid can vary between $1,000 to $4,300 depending on the device. While hearing aids may seem like an expensive investment, we have affordable payment options that allow you to choose the right invisible device on a budget. Our 14-day test before you invest promotion can also ease the financial aspects of buying an invisible hearing aid and help you enhance your life as soon as you step into a hearing consultation.
Working with hearing devices is not a short-term solution to fix hearing loss. Therefore, the care you receive should follow this same idea. Hearing aid users should be checking in with their hearing practitioner annually to assess how the devices are working. With that in mind, we also recommend bringing the hearing aids into the office to have them professionally cleaned every 3 months. At Discover Hearing Centre, we want to make sure you are happy with your investment in hearing aids and your investment with us.

We're here to listen - explore your invisible hearing aids options with our affordable financing!
Our priority is to ensure that we combine your utmost comfort with the right invisible hearing device accommodating your life. You deserve a device that is flexible enough to give you the invisible look and feel of a hearing aid while being customized enough to provide you with the sound suited for your lifestyle.
Find the perfect invisible hearing device with Discover Hearing Centre and experience the sounds of your life at an optimal level!